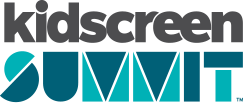 You are not currently viewing the most recent Kidscreen Summit. Go to Kidscreen Summit 2021.

As a kid, Keion Jackson always sat "too close" to the TV. And now that he's a screenwriter and creator, he's even closer! Keion's passions for creative writing, television, and making the world a better place have combined like a Power Rangers Megazord to form an exciting career in TV. (Note: Keion expresses himself with TV references.)
Keion is currently the story editor for an upcoming animated series being produced by 9 Story Media Group. He also writes for the series.
His career in children's media began in 2017 when he was selected as a writing fellow for Sesame Street Writers Room, a writing workshop designed by Sesame Workshop to discover and cultivate diverse voices. At the end of the six-week program, Keion was one of two fellows to be awarded a creative development deal.
After the program, Keion went on to work as story editor for an upcoming preschool series produced by Silvergate Media. He also wrote many episodes for the show.
Keion has worked on several projects with WGBH. He has also written for season's 49 and 50 of Sesame Street, HBO's Esme & Roy, and Amazon's If You Give a Mouse a Cookie.
When Keion isn't writing, story editing, or singing along to vintage clips of Sesame Street on YouTube, he's hard at work developing an original series with Sesame Workshop. The lifelong TV lover is determined to take a bite out every opportunity he gets. Cookie Monster has taught him well. #NomNomNom
Speaking on: Groundwork for Growth: Setting New Creators Up to Succeed