You are not currently viewing the most recent Kidscreen Summit.

Go to Kidscreen Summit 2024
Be part of the conversation!
If you like talking to interesting people about interesting things, we're introducing a brand-new networking format called Chatroom to this year's virtual event just for you. Chat leaders who are passionate about specific topics or POVs will host small groups in some lively discussion, and you're invited to join in. Check out our lineup, and click on the three session links to add them to your calendar.
Friday, February 12 • 12:00-1:00pm EST
Facing racism head on: Modelling good behavior is a start, but kids shows also need to deal with racism directly. Let's talk about how.
Hosted by Kay Wilson Stallings (Sesame Workshop)
Diverse creative teams: Building a diverse writers room seems daunting, but it doesn't have to be.
Hosted by Karissa Valencia (Netflix)
LGBTQ characters now: Why you don't need a hit on your hands before you can introduce an LGBTQ character.
Hosted by Lindz Amer (Queer Kid Creative)
Race perception and kids: How do kids and their families perceive their own cultures and identities, how is that reflected back to them in media, and what can we do better to change the narrative?
Hosted by Daniel Ramos (Nickelodeon)
Disability on screen: Who is doing it right, and what more can be done to advance the mission?
Hosted by Debbie Macdonald (consultant)
Gender representation: We've made great strides in improving female representation on screen, but we're not quite there yet. What else do we need to do?
Hosted by Stephanie Horsburgh (Bristish Consulate General & UK Mission to the UN)
Monday, February 22 • 12:00-1:00pm EST
Greenlight next steps: After you land a commission, the next steps can be daunting. From script-writing to building out a team, here's what you need to do.
Hosted by Sharon Gomes (consultant)
Level up gaming characters: Exploring the challenges and opportunities in taking video game characters into a 360-degree environment.
Hosted by Ken Faier (Epic Story Media)
Simplifying contracts: It's time to get over the minutiae in contract negotiation.
Hosted by Genevieve Dexter (Serious Lunch)
Global vs. local: When it comes to chasing a worldwide hit, do you go big and global, or local and niche?
Hosted by Gary Pope (Kids Industries)
Getting buyer face time: Building relationships with buyers is key, but getting face time is a struggle. This isn't quite group therapy, but it's as close as we can manage.
Hosted by Tom van Waveren (CAKE Entertainment)
Is OTT right for me?: Going direct to consumers isn't without its challenges. Would OTT be a good fit for your project, or should you consider a more traditional strategy?
Hosted by Jon Ollwerther (Genius Brands International)
Local SVOD regs & you: How will local SVOD regulations in countries like Canada, France and Australia impact producers there.
Hosted by Mark Bishop (marblemedia)
Monday, March 1 • 12:00-1:00pm EST
Sticky COVID habits: Let's talk about behavior shifts kids have developed in lockdown that have the most staying power.
Hosted by Sarah Riding (Kids Insights)
Post-pandemic pitching: What does a post-COVID pitch even look like? What practices and processes are likely to stick around once the world "returns to normal?"
Hosted by Natalie Lellewlyn (Jellyfish Pictures)
The future of live action: Live action will never be the same. How do we make it work differently in the long term?
Hosted by David Michel (Cottonwood Media)
Economic fallout: We've barely scratched the surface when it comes to the long-term economic impact of the pandemic—what's likely to hit the hardest, and how can we all prepare now?
Hosted by Jennifer McCarron (Thunderbird Entertainment/Atomic Cartoons)
Finding the funny in COVID: Can you mine the global health crisis for uniquely funny moments?
Hosted by Claire Curley (Hello Sunshine)
Classic comfort: People seek out the familiar in times of crisis, and classic brands are thriving right now. How do you navigate the line between supporting and exploiting an audience in need, and how do you identify effective next steps for when things return to normal?
Hosted by Nicole Goldman (The Jim Henson Company)
To WFH or not to WFH: Even when life returns to normal, there's no denying the benefits of working from home. But can kidcos find the right WFH balance, or do we need our teams back in the office?
Hosted by Philippe Soutter (PGS Entertainment)
Educational recovery: The pandemic has set some kids back years on the learning front. Content producers have a role to play in helping them catch up—here's what your curriculum needs now.
Hosted by Cheryl Gotthelf (Cheryl Gotthelf Consulting)
On the co-pro horizon: With many borders closed right now, co-productions have hit some stumbling blocks. What does the future of multi-national collaboration look like, and what can we do now to keep things moving forward?
Hosted by Karen Vermuelen (Gaumont)



Spotify joins our Fireside Chat playlist
We are thrilled to welcome Spotify's Head of Kids Audio Content, Verdell Walker, to our Fireside Chat series of Q&As exploring new business strategies that are likely to make waves in our industry this year.
As the pandemic drags on, families around the globe are increasingly tuning into podcasts for a bit of screen-free entertainment. Spotify may be king of the music scene, but it's just starting to get into podcasting, and Walker has a plan for how to reach kids specifically. Listen up as she lays out her strategy for how the audio giant will grow in this new market, and how kids producers can get involved.
WarnerMedia's Tom Ascheim and eOne's Olivier Dumont are also featured in our Fireside Chat sessions. Add all three of them to your calendar and watch along live to find out what these change-makers are planning for 2021 and beyond.
24 buyers on tap to outline their content strategies
Business Pass Exclusive! Our In Conversation with… interview series is designed to help you understand what kids buyers are looking for right now. Hear first-hand about the future plans and priorities of the kids industry's major content investors, and then ask them questions in a virtual Q&A. Here's who we have lined up:
Reminder to join us at the Kidscreen Awards ceremony
Hosted by Canadian comedian Emma Hunter and with Elmo making a cameo appearance, this year's virtual show promises to be a highly entertaining celebration of the year's best work in kids television and digital media. Make plans to join us on Tuesday, February 9 at 3:00pm EST to see which of these nominees will take home a win. Access is exclusive to Kidscreen Summit Virtual attendees.

Feeling nervous about pitching?
Don't worry, we've got you covered! Before Kidscreen Summit Virtual even starts, we are running a Master Class called Perfecting Your Virtual Pitch on Friday, February 5 to help you fine-tune your approach and materials, and take your pitch to a whole new level. Running the session are three execs who are VERY experienced with pitching, and they'll share lots of practical, hands-on tips and guidance about what works best when it comes to getting on a buyer's radar in our new virtual reality.
You won't want to miss out on this essential prep for the event, so make sure you click on the link above and add the Master Class to your calendar.

More pitching support for you!
We also have a great mentoring session called Pitch Doctoring running on Monday, February 8 that gives you a chance to work one-on-one with some of the industry's most talented pitchers, who will take a look at your materials and give you advice on how to deliver them with more punch. Sign-up for these 15-minute consults opens Wednesday, January 27, so keep an eye on your inbox that day for more how-to details.
SUMMIT PRO TIP: You can very often jump into extra Coffee with… and Speed Pitching meetings by showing up at these sessions 10 minutes early and checking in with the room monitor about meetings that may become available due to no-shows. We run a very organized wait line to assign these open spots, so we encourage you to take advantage.

Welcome to your personal meeting room!
For Business Pass attendees, your personal video conferencing rooms are now ready for testing. This environment is where all of your meetings will happen, so we encourage you to spend a little time getting familiar with it well before the event starts.
All you need to do to try it out is start a video chat with another delegate—we've prepared a short video guide (below) and a step-by-step PDF to show you how.


Speaking of meetings…
Now's the time for booking them, if you want to get face time with all the right people—and it could not be easier on our all-new kidscreenXchange platform!
Start your outreach. Explore the delegate list to determine who you'd like to meet with, and then use our direct messaging tool to introduce yourself and request a meeting.
Schedule meetings. When you've got a meeting date & time confirmed, enter it into your calendar. You can choose between a personal video conferencing room (yours or theirs) or the Delegate Lounge for the meeting location.
Video guides
How to search the delegate list
How to send a message
How to add a meeting to your calendar




Comedian & actress Emma Hunter to headline the 2021 Kidscreen Awards ceremony!
We are thrilled to announce that Canadian comedian Emma Hunter is back by
popular demand to host our 12th-annual Kidscreen Awards ceremony, taking place online during Kidscreen Summit Virtual on Tuesday, February 9 at 3:00pm EST.
Emma is a Canadian Comedy Award and Canadian Screen Award winner whose credits include roles on Letterkenny, Mr. D, Royal Canadian Airfarce, This Hour Has 22 Minutes, Degrassi and The CW's LA Complex. She kept the live audience at our 2020 Kidscreen Awards ceremony in stitches this past February in Miami. And she's excited to host the show again from her home, as she attempts to do what every working parent has struggled with this year—hiding from her kids while trying to do a video call.
Dropping in for a special cameo is everyone's favorite furry red Muppet, Sesame Street's Elmo, who'll be on hand to give Emma tips on hosting the special event.
Please join us for what promises to be a highly entertaining celebration of the year's best work in kids television and digital media, sponsored by our friends at the Canada Media Fund. Nominees have been announced in 45 categories, and we're looking forward to unveiling the winners in real time at the virtual ceremony. This event is only accessible to Kidscreen Summit Virtual attendees.
Avoiding the digital content trap with Bharat Anand
In the golden age of media, "content is king" has permeated the creative landscape and marketplace as an unchallenged mantra. Make great shows, and buyers and viewers will follow. But economist and Harvard professor Bharat Anand calls this the "content trap" and warns against relying on old business models to chase growth. Simply taking your existing content and putting it online isn't enough. Instead, producers, distributors and broadcasters need to rethink what it really means to provide content. Join us for this illuminating keynote that will make you ask: Can my business strategy survive the virtual era, or do I need to be doing more?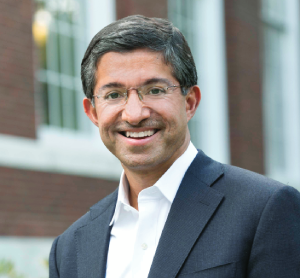 About Bharat Anand…
Bharat Anand is the Vice Provost for Advances in Learning at Harvard University, and the Henry R. Byers Professor of Business Administration at Harvard Business School.
Professor Anand is an expert in digital strategy, digital marketing and corporate strategy. His work has examined competition in content industries, focusing on two central challenges that companies increasingly face: getting noticed and getting paid. He created Harvard Business School's first executive program on digital strategies for media companies. He has written more than 50 articles and case studies, and his scholarly work has received various awards and been profiled in a range of media outlets. His work on digital transformation has influenced startups and established companies worldwide.
His book The Content Trap: A Strategist's Guide to Digital Change has received acclaim for its perspective on strategy and digital transformation. It was named as one of Fast Company's top 10 business books of 2016, and Bloomberg's "Best Books of 2017."
In 2014, Professor Anand helped create and launch digital learning platforms for Harvard Business School Online (formerly HBX). HBSO's virtual classroom has been described by Fortune as the "Classroom of the Future". In his current role as Vice Provost, he has led Harvard University's efforts to formulate, communicate and implement strategic priorities around online learning, and to leverage technology to create more effective teaching tools, strategies and resources for residential teaching across the university. Since March 2020, Professor Anand has been a part of the central leadership efforts to support and oversee Harvard's transition to remote teaching.
Professor Anand is a renowned teacher and a two-time winner of the "Best Teacher Award" at Harvard Business School. He is a recipient of the Apgar Award for Innovation in Teaching, and the Greenhill Award for outstanding contributions to Harvard Business School.
He received his BA in Economics from Harvard College magna cum laude, and his PhD in Economics from Princeton University.



Baratunde Thurston to keynote!
Emmy-winning comedy writer, author and Obama White House advisor Baratunde Thurston will open our three-week conference program at Kidscreen Summit Virtual with a keynote presentation about deconstructing racism through the stories we tell.
From TV shows to headlines, all stories have a structure. You know what else has a structure? Racism—that's what makes it systemic. Watch along with us on February 16 as Baratunde explores how we can reframe the actions we (and our characters) take to be more inclusive, and the role content producers play in shaping how kids see race on screen.


About Baratunde Thurston…
Baratunde is an Emmy-nominated host who has worked for The Onion, produced for The Daily Show and advised the Obama White House. He wrote the New York Times bestseller How To Be Black, and is the executive producer and host of two podcasts: How To Citizen with Baratunde and We're Having A Moment, which CNET called "the most important podcast of 2020." He's also the creator and host of weekly pandemic show Live On Lockdown. In 2019, he delivered what MSNBC's Brian Williams called "one of the greatest TED talks of all time". Right now, the writer, activist and comedian is using his powerful voice to help people understand this revolutionary moment with his unique blend of insight, humor and empathy.
With an ancestry that includes a great-grandfather who taught himself to read, a grandmother who was the first Black employee at the U.S. Supreme Court building, a computer programming mother who took over radio stations in the name of the Black liberation struggle, and an older sister who teaches yoga at her donation-based studio in Michigan, Baratunde has long been taught to question authority and forge his own path. It helps that he was raised in Washington, D.C. under crackhead Mayor Marion Barry.
Baratunde's mind, forged by his mother's lessons and polished by a philosophy degree from Harvard, has found expression in the pages of Fast Company and the New York Times; on screen with HBO, Comedy Central, CNN, MSNBC and the BBC; and over the airwaves of NPR and podcasts such as Pivot, WTF and Hello, Monday.
He has hosted shows and stories on NatGeo and Discovery's Science Channel and earned a Daytime Emmy nomination for hosting the Spotify/Mic series Clarify. Baratunde is also an in-demand public speaker and live events host for organizations ranging from Google to criminal justice reform non-profits such as JustLeadershipUSA.
Far from simply appearing in media, Baratunde has also helped define its future. In 2006, he co-founded Jack & Jill Politics, a Black political blog whose coverage of the 2008 Democratic National Convention has been archived by the Library of Congress. From 2007 to 2012, he helped bring one of America's finest journalistic institutions into the future, serving as Director of Digital for The Onion, and then did something similar as Supervising Producer for digital expansion at The Daily Show with Trevor Noah. He has served as an advisor to the Data & Society Research Institute and a director's fellow at the MIT Media Lab.
Baratunde is a rare leader who sits at the intersection of race, technology and democracy and seamlessly integrates past, present and future.
Dr. Jane Goodall confirmed to keynote!
We are thrilled to announce that famed environmentalist Dr. Jane Goodall will be joining us at Kidscreen Summit Virtual to deliver an inspiring opening keynote presentation on February 8.
Dr. Goodall has worked with millions of young people around the world, inspiring them to take action in their communities through the Jane Goodall Institute and Jane Goodall's Roots & Shoots. Recognized for her tireless and vital conservation efforts, she spreads her message through optimism—a visionary idea in today's unsteady world. At Kidscreen Summit, Dr. Goodall will share her unique experience, and explore the role the kids entertainment industry can play in helping children develop a lifelong love of the natural world.


More about Dr. Jane Goodall...
In July 1960, at the age of 26, Dr. Goodall travelled from England to Gombe, Tanzania and ventured into the little-known world of wild chimpanzees. Equipped with little more than a notebook, binoculars and her fascination with wildlife, she braved a realm of unknowns to give the world a remarkable window into humankind's closest living relatives. In her landmark study, Dr. Goodall immersed herself in the chimpanzees' habitat rather than observing from a distance. Her discovery in 1960 that they make and use tools rocked the scientific world.
In 1977, she established the Jane Goodall Institute (JGI) to advance her work around the world and for generations to come. JGI continues the field research at Gombe and builds on Dr. Goodall's innovative approach to conservation, which recognizes the central role that people play in the well-being of animals and the environment. In 1991, she founded Roots & Shoots, a global program that empowers young people in almost 60 countries to act as informed conservation leaders.
Through more than 60 years of groundbreaking work, Dr. Goodall has not only shown us the urgent need to protect chimpanzees from extinction; she has also redefined species conservation to include the needs of local people and the environment. Today she continues to speak about the threats facing chimpanzees, environmental crises and her reasons for hope. She emphasizes the interconnectedness of all living things and the collective power of individual action.